Amid lawyer killings, Leonen hopes for swift passage of court marshals bill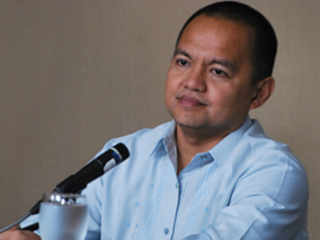 Amid the spate of lawyer killings in the country, Supreme Court (SC) Associate Justice Marvic Leonen said he hopes Congress will soon pass a proposed law for the creation of an independent security force for the judiciary.
More than 50 lawyers have been killed since President Rodrigo Duterte assumed office in 2016, according to the National Union of Peoples' Lawyers.
"We are hoping that sooner or later Congress passes the bill that I think we have supported to create judicial marshals in order to expand our capability to internally protect the judges that we have on field," Leonen said at a press conference hosted by the Foreign Correspondents Association of the Philippines (FOCAP) on Friday.
There is at least one pending bill in the Senate and at least three in the House of Representatives seeking the creation of an office of judiciary marshals that will be tasked to protect justices, judges, court officials and personnel, as well as judiciary buildings.
In 2019, Chief Justice Diosdado Peralta said he is envisioning a security system for judges patterned after the United States' Marshals Services.
The Philippine Judges' Association backed Peralta's proposal, and the Integrated Bar of the Philippines said it was initiating a security program for lawyers in cooperation with the military and the police.
Leonen said Friday that trial court judges, unlike SC justices who belong to a body of 15 members, face threats alone.
"They face all these challenges and obstacles and threats by their lonesome, and we have tried our best to be able to provide them with as much personal security as possible and we hope that that bill on judicial marshals will pass," he said.
"But I think that we are looking at an early approval if many of the statements made by our senators and members of the House are to be taken into consideration," he added.
The justice shared that he and his colleagues have also received threats. "But it is occupational hazard and I think, I hope, that that strengthens our character more than ever in order to do the right thing," he said.
He said the SC is "always bothered and concerned" by the killings of lawyers, prosecutors and judges. He said killings "reduce the space for rational deliberation."
"Although of course these kinds of malevolent efforts encourage many of us to find better solutions in order to address it, but the point there is we are always alarmed by that," he said.
Few cases involving lawyer killings have reached the courts, and Leonen said the court is concerned that many of the victims' families "have not found a way in which evidence is maintained and preserved and then presented" in court.
"And we hope that our entire legal system which includes the police, the prosecutors and even the judges and the judiciary can cope with addressing all of these crimes that have happened," he said.
Stakeholders in the justice sector conducted at least four meetings this month to discuss lawyers' security amid the killings.
Earlier in January, lawyer Winston Intong was gunned down while he was buying vegetables near his house in Malaybalay City, Bukidnon.
In December, lawyer Maria Concepcion Landero-Ole was killed in Looc, Danao City. The month before, lawyers Eric Jay Magcamit of Palawan and Joey Luis Wee of Cebu were killed in broad daylight just within days of each other.
Retired Court of Appeals justice Normandie Pizarro was confirmed to have been found dead and mutilated in Tarlac in December. —KBK, GMA News