Indigenous lawyer panel inspires the next generation lawyers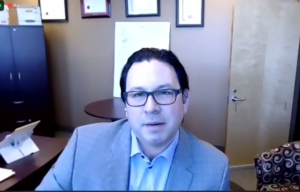 By Rick Garrick
ONTARIO — The law school experiences of four Indigenous lawyers were recently featured during a National Advocates for Indigenous Law Students virtual panel discussion on Feb. 2.
"Going to law school was … certainly a challenging experience; however, it was one of the best experiences of my life for sure and I would not change it for the world," says Etienne Esquega, Biinjitiwaabik Zaaging Anishinaabek citizen, Osgoode Hall Law School graduate, and principal lawyer at Esquega Law Office. "I am very proud to be … able to help my clients and doing the work I do. I cherish my friendships and the connections I have met throughout my career so far."
Esquega says the call to the bar ceremony is one of his most rewarding experiences as a lawyer.
"Everything comes together at that point and you really feel like, 'Wow, I've done it— I've accomplished it,'" Esquega says. "As a bencher, it's my favourite part of my role is to attend those Call to the Bar ceremonies and be able to celebrate all the new licensees getting called to the Bar. It's such an amazing experience every time, to see all the happy families and friends."
Sherry Abotossaway, a Lakehead University Bora Laskin Faculty of Law graduate who grew up in Aundeck Omni Kaning and sole practitioner at Abotossaway Law, is proud about showing her children the importance of pursuing an education goal such as studying law.
"For me, my proudest moment is the fact I did it and my children saw that," Abotossaway says. "Now I'm very proud to say that my oldest applied to law school this year and got into all the law schools she applied for except for she is still waiting on her admission to Osgoode. And now my younger ones have aspirations to do, it's not even a thought; they're just like, 'I'm going to do this.'"
Abotossaway says her clients' appreciation for the work she does in court is also rewarding.
"In some cases you get clients who say, 'Thank you so much,'" Abotossaway says. "They don't have to be but for me, that just makes my day. You don't hear it very often but I hold onto that for the next time until I hear it again."
Jaimie Lickers, a Six Nations of the Grand River citizen, Queen's University Faculty of Law graduate and vice president of Indigenous Markets at CIBC, says her studies at law school were the best years of her life.
"The people that I now consider my best friends, I met them all in law school," Lickers says. "Those relationships were formed through all of the demands and the stress that came from law school, which really has a way of bonding people."
Lickers says there were many moments that shaped her career and made her feel she was doing something worthwhile.
"I had the honour of appearing in the Supreme Court of Canada twice, once on the landmark Daniel's decision which addressed the question of whether non-Status Indians and Métis people should be considered Indians for the purpose of the constitution," Lickers says.
Jeff Warnock, a Métis Nation of Ontario citizen, Western University Faculty of Law graduate and adjunct professor at Western University Faculty of Law, says teaching his first class at the Western University Faculty of Law was "such a source of pride."
"It so felt like a fantastic opportunity to kind of educate the next generation of lawyers and open their eyes to things in their legal education that they may otherwise wouldn't have gotten," Warnock says. "It felt like a position that carried with it a lot of responsibility but also so many opportunities."